How to be Truly Customer Centric with Hubspot and SMS?
Hubspot is a favorite tool for sales and marketing departments. This company was built for business communication with customers without interrupting them. Since this platform is made, it helps customers centric sales and made marketing easier for small businesses to mid-market businesses.
Right now over the 16 years since HubSpot is built many companies have adopted this platform and focused on their efforts on inbound sales and marketing. They re-centered their campaigns and content to focus on helping the customers and solve their problems rather than sending them generic outbound messages.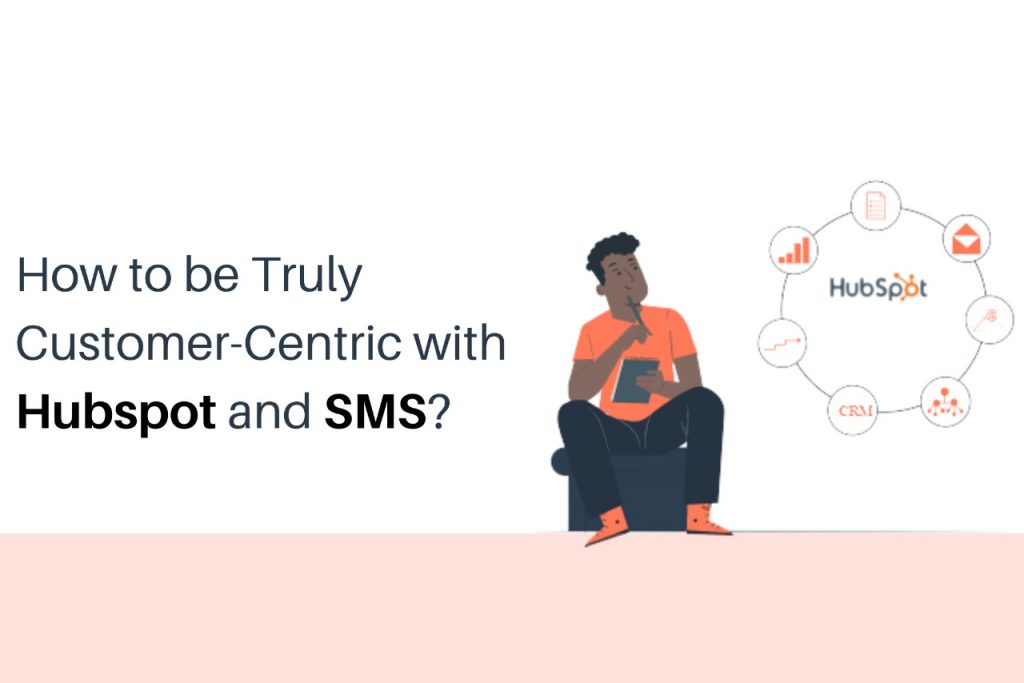 Hubspot SMS
SMS is continuing to transform the modern-day workplace and overall business every day. Hubspot and SMS can help you strengthen your communication with customers. SMS for HubSpot integration has been a fantastic addition to your sales and marketing strategies. SMS is one of the most effective channel for high cut-through and engagement whether you are part of marketing or a sales team.
You can send and receive SMS directly with contacts, this is a great way for 1:1 to communicate with customers promptly. You can easily monitor your customer's engagement because SMS messages are automatically recorded in the contact activity. These logs consist of details like message content, delivery time, and date.
Centralized Team Efforts
Every HubSpot plan includes customer data and leads, customer communication tools, digital campaign creation features, and performance tracking. Centralize your sales and marketing efforts like this and engage more with customers. This will help your team function more efficiently, and you can get a big picture view of marketing efforts. HubSpot SMS lets you streamline team efforts to connect with your customers even more efficiently.
Using HubSpot SMS to Streamline Team Collaboration
You can integrate your HubSpot account with your business SMS platform. A HubSpot SMS integration allows you to add texting to a marketing campaign, sync your data between platforms, and text with leads right from the Hubspot interface.
When you integrate HubSpot with SMS, you can access all that same team collaboration when you message your customers.
Use HubSpot SMS to –
Have multiple team members for answering the question of customers. (e.g. having your sales reps team member answer a leads question)
Assign a lead conversation to your sales team when they are ready to have a purchasing conversation.
References your leads' full interaction history from their HubSpot records contacts and use it to inform your SMS conversations, all from within HubSpot.
HubSpot SMS makes communication is easier than ever, so you can have an efficient and meaningful way of conversation with customers.
HubSpot SMS makes it easy to Start Relationships with Leads right away. Some features and integration empower you to check the leads and messages within HubSpot. With these new capabilities, you can both send marketing SMS content and connect with your audience when they reach out.
Conversational Chats Using HubSpot SMS
Transitioning to customer-centric sales and marketing means embracing those conversational tactics and answering inbound queries with helpful, authentic one-to-one chats. You can use it to respond to lead and customer messages within HubSpot.
HubSpot SMS allows you to-
Create campaigns in a channel that encourages interact leads.
Increase campaign engagement.
Save time by managing marketing campaigns alongside communications.
By responding to your customers quickly using these channels you can model the inbound marketing mentality of meeting the customer anytime.
Connect with Customers at Key Moment with SMS
SMS is a great channel for customer follow-ups. Because customers are likely to read your texts, as 98% of SMS messages are read by people. They are also responding, as SMS has up to 45% of response rate. And automation helps you to reach more customers at the opportune moment.
Setting up an SMS workflow automation is simply easy. For example, set a follow up for a marketing event, you do simply-
Create or select follow-up SMS templates.
Create a workflow for a contact enrollment trigger based on HubSpot. For example, the life cycle stage is "webinar attendee" and SMS opt-in (custom property) is "yes".
Set a whichever delay makes sense for the situation. For example, delaying the message time until one day after the event.
Add an action for sending "SMS with template" with your HubSpot workflow.
Workflow automated SMS empowers you to check-in with customers at a critical point through a channel they are more likely to respond to. HubSpot helps boost engagement rates through personalization.
Add HubSpot Properties to SMS Marketing and Sales Campaigns
Automated SMS workflow is especially useful for quick follow-ups. Identify the moment in your marketing journey where quick follow-up will help you lead to engaging with your content. Make that connection via SMS and scale it.
With your SMS HubSpot, you might create workflows that-
Send a personalized text message after leads take particular action like signup for the product demo.
Send a personalized check-in text if leads don't respond.
Send appointment reminders to ensure leads attend them.
Include a personalized SMS follow-up after sending the sales proposal.
HubSpot simplifies performance measurement. It offers one last revolutionary benefit since all of your marketing efforts are in place, HubSpot acts as a centralized tracking system. It empowers you to get an overview of your performance across channels and campaigns. In other words, you can see how customers respond to your content.  
Scale your Messaging engagement with SMS Reports
There are certain conversational sale KPIs and conversational marketing KPIs that you will want to measure, like response rate and average response time. You can leverage SMS reports with these metrics from other channels.
Most SMS platforms offer reports that allow you to:
Review performance in an easy-to-digest way.
Tracking metrics that are important to you and creating custom reports.
Analyze critical factors like response times and inbound/outbound message volume.
Having information about other channels is invaluable. You can expand your customer experience, better understand the needs of customers, and understand what you need to do with those needs.   
HubSpot and SMS- key to customer-centric sales and marketing
HubSpot and SMS are powerful duos. With their help, you can make personalized connections efficiently, streamline communication workflow, kick start lead conversation, centralize team efforts and get a better picture of your leads' journey. Ultimately, HubSpot and SMS make your sales and marketing departments more customer-centric and more effective overall. 
Text Messaging Cloud provides native HubSpot messaging and click here to request free trial of 7 days.
Want to see it in action?
No credit cards for trial | No contracts | Pay on the Go | Cancel Anytime 
© 2021 CRM Messaging • All rights reserved • Love from India