How Australian businesses are using SMS to boost productivity?
At present, it is estimated that 5 billion people around the world have access to sending and receiving SMS for communication, and in Australia, SMS marketing is very impactful because when we are talking about getting attention in the busy digitally marketing world.
If you do business in Australia and SMS marketing isn't part of your overall strategy, you should ask yourself why?
Almost every Australian have a communication device in their pocket and it makes the SMS marketing business more powerful.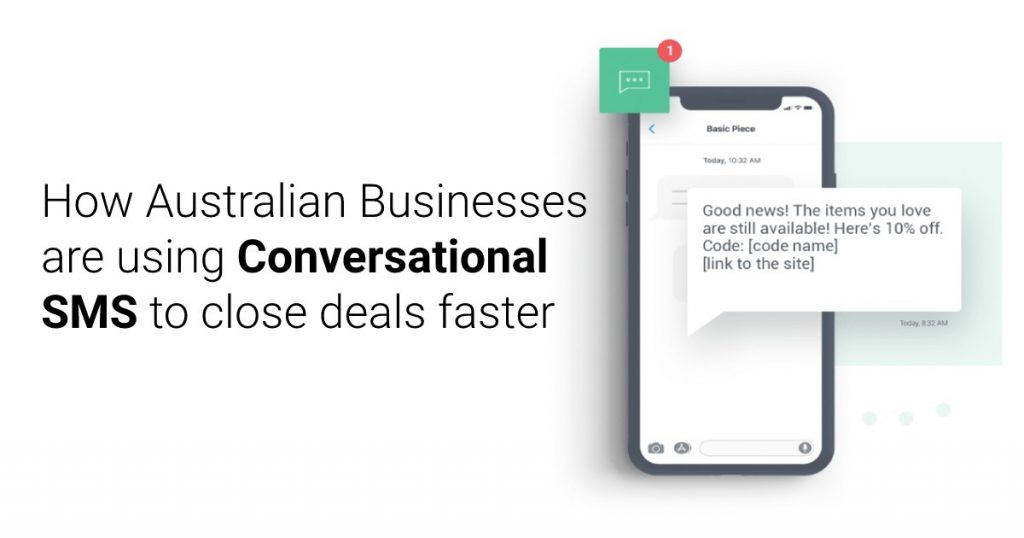 Let's talk about SMS marketing,
What is SMS marketing?
Short message service marketing (SMS marketing) is used to connect with the customers and send them information about your company. It is a digital technique that uses text messaging to spread promotional and advertisement messages to consumers. SMS marketing is a channel that is similar to email marketing but more effective than email marketing. It gives organizations the ability to send their marketing message to customers' mobile devices. By optimizing the strength of SMS marketing strategy, you can reach more people, in more places, at any time of the day. No matter your target audience is busy with some work but undoubtedly, they will check their phone.
Benefits of SMS marketing-
89.9% of Australians have a mobile phone.
It provides excellent open rates (98% open rates).
Affordable.
High ROI.
You can send SMS in bulk
It is a direct and to-the-point channel.
Also, you can learn more about your customer.
Customer engagement increases
SMS marketing statistics for 2021-
Some points are-
In Australia, 60% of adults in 2020 relied solely on a mobile phone for telecommunication
Over 70% of Australians, aged 18-44 they don't have fixed-line phone service at home so for communication they mostly use a mobile phone
In Australia, the SMS open rate is 94% and the SMS read rate is 78%. For comparison, they have only a 34% of email open rate
According to the source, there are 32.89 million mobile connections in Australia, which is equivalent to 130% of the population
In Australia, 96% of people use their mobile phone for sending messages for communication
Planning a great SMS marketing campaign-
The goal of your SMS marketing campaign-
As with any other SMS marketing campaign strategy your SMS marketing campaign needs a measurable goal to guide your efforts. For example, your goal might be to have a 50% to 60% of click-through rate to claim vouchers.
To represent your target audience build a target persona-
Now you have a goal for your SMS marketing, let consider who is the best audience for your SMS campaign to reach the goal that you set. Create a target persona for helping yourself and your team to understand the kind of person are you talking into SMS. 
Ask yourself" Is SMS marketing is the best channel for you to reach your goal and audience"?
SMS marketing is an effective channel, you run the risk of a high un-subscription rate if your customer does not appreciate receiving your campaign over SMS. A promotional material sends over a phone can feel like an invasion of privacy to some. More likely when your SMS and content are valuable and timely so your audience is receiving your SMS positively. Whilst a pure promotional material campaign is doing better when send via email. Any valuable information is best sent over SMS. Like an exclusive offer with expiration dates, and last-minute event change information.
Implementation of bulk SMS marketing platform-
When you want to send messages to hundreds of people you are not going to do this one by one it will give your thumb a strain. So, use a bulk SMS marketing platform to get your SMS sent to hundreds of people quickly and smoothly to as many recipients as you like. Always design the content of your SMS and ensure that your content is compliant with the laws.
Reasons why SMS marketing is a future and present-
SMS marketing in Australia is outdone most of the other channels because it has good engagement rates–
Whilst some other channel like email and social media is an integral channel of marketing. They are left in the dust when it is about the SMS marketing engagement stats such as open and response rates. An SMS message has a 98% of open rate and 90% of marketing campaigns receive a direct response. That's an engagement rate that most traditional marketers are absolutely looking for.   
People trust SMS more than any other communication channel-
Most people trust that SMS is the trustworthy mode of communication because only 10% of SMS campaigns are considered SPAM. In a comparison to email low rate where nearly 50% of campaigns raised red flags. The survey said that 9 out of 10 people prefer receiving branded messaging via SMS over other marketing channels.
The potential reach of SMS as a channel-
At the present, there are 7 billion subscriptions of SMS communication on this planet. It is the one subscription for every human being. With a potential reach of- well, everybody- you are not fooled to capitalize SMS marketing as your part of your overarching marketing strategy.
People make a purchasing decisions on their mobile phones-
Most people are using their smartphones for shopping and searching for the product on search engines. A worldwide, people spend over a trillion dollars every day on purchasing products by mobile phones. People are more likely to purchase products from your business when they make their decision on their phones. You could leverage an important channel for increasing on-the-go decision-making. Mobile users increased their intention to purchase products when searching on their smartphone vs other devices. And 92% of people who search the product on mobile will make a purchase decision.
Whether you are a consumer or a brand representative, most people use SMS software for business. this might explain 71% of marketers are saying that SMS is the core of their strategy. SMS is a way of communication and using their mobile device to research a brand and make a purchase.
SMS marketing service providers
Want to see it in action?
No credit cards for trial | No contracts | Pay on the Go | Cancel Anytime 
© 2021 CRM Messaging • All rights reserved • Love from India