Get Started with messaging on HubSpot
Admin Guide
It will take less than 5 min to start sending SMS from your HubSpot CRM. Follow these integration steps,
Setup
Step 1: Visit https://www.crm-messaging.cloud and sign up with Google or Email ID. This need not be your Super Admin Email of Hubspot Account.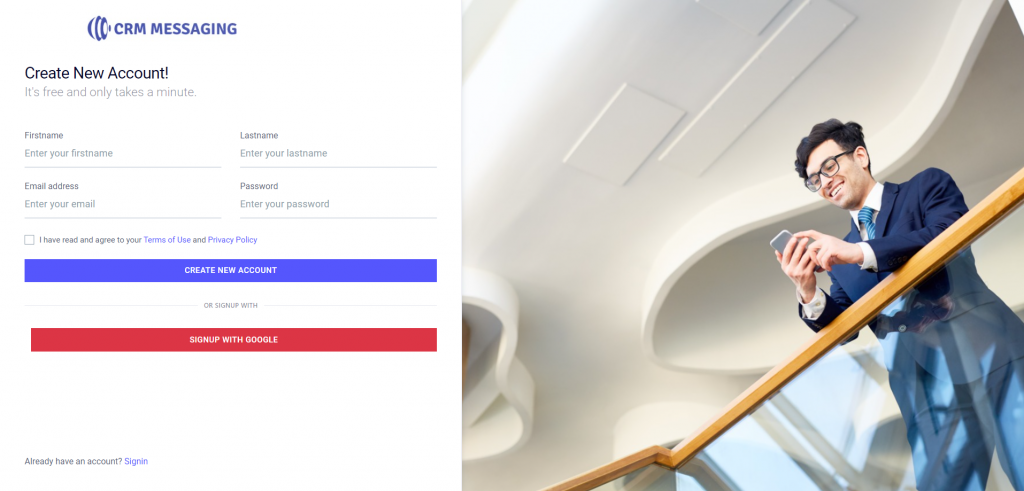 Step 2: Go to Integration Gateway and connect your HubSpot Account with Messaging Cloud. After successful connection, you should see the following screen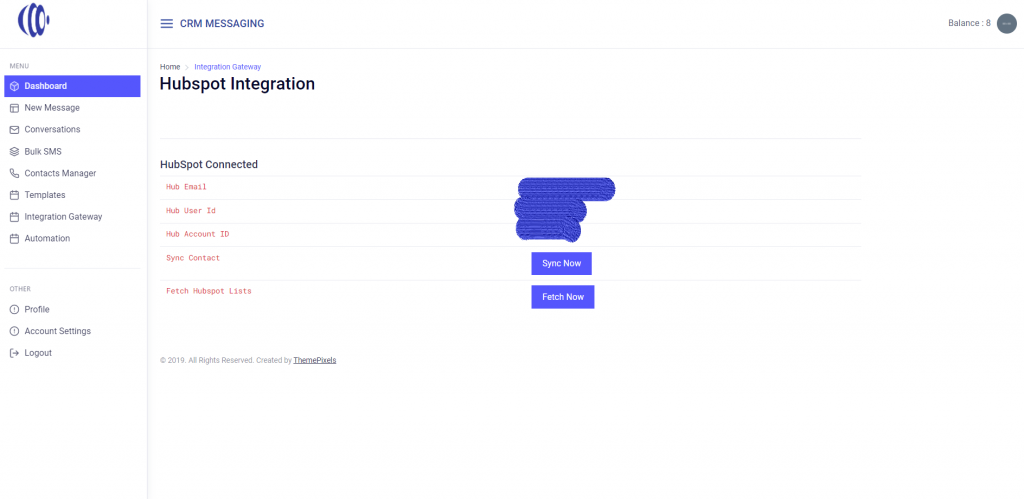 You are done and ready to send SMS from your HubSpot Account. You are given 10 free message credits and a phone number. Note that this setup has added CRM cards, timeline activities on contacts, and workflow actions on your HubSpot account. This will be explained in the below section on how to use these features.
Also, upgrade to a paid user at just the cost of credits and phone number. No license fee, No contract, and No credit card. We tie-up with top messaging providers to deliver your messages and standard SMS rates and phone number rates will be charged only. No extra fee. More details – Pricing Page
User Guide
Send & Receive SMS
To send and receive SMS from HubSpot interface, Messaging Cloud offers Conversation Widget and Conversation View on Contacts. A free trial account will be able to send up to 10 free SMS to contacts and to receive SMS, you need to upgrade to a paid account. Follow this step to get started,
Step 1: Open any record on HubSpot, you will be shown a CRM conversation widget on right hand side as shown in below image,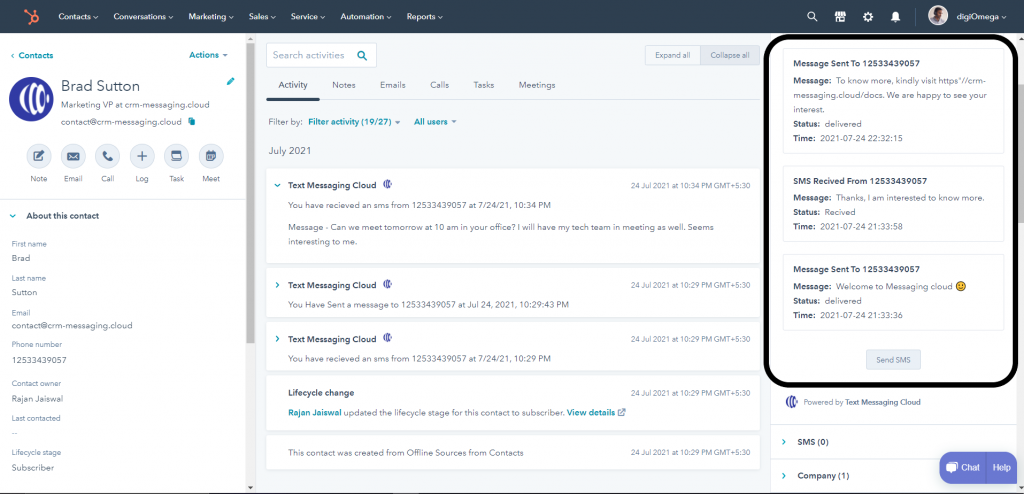 Step 2: Click on Send SMS to open conversation view in a popup and here you see contextual conversation history. Compose your message by including personalization tokens, emoji's, media, texts or templates.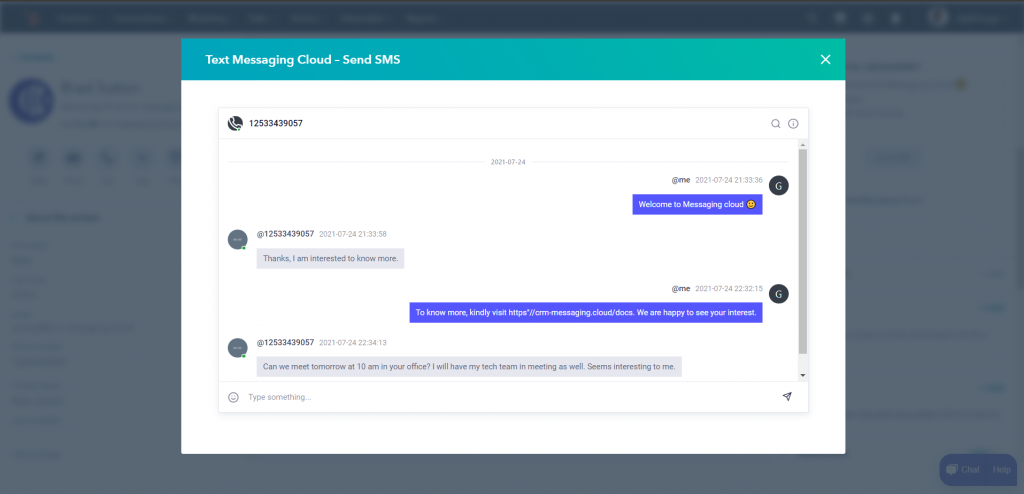 Send Bulk SMS
To send bulk SMS, first prepare list of contacts eligible for receiving bulk texts. Simply follow these steps,
Step 1: Go to Lists in Hubspot and create a static or dynamic list of audiences for the campaign.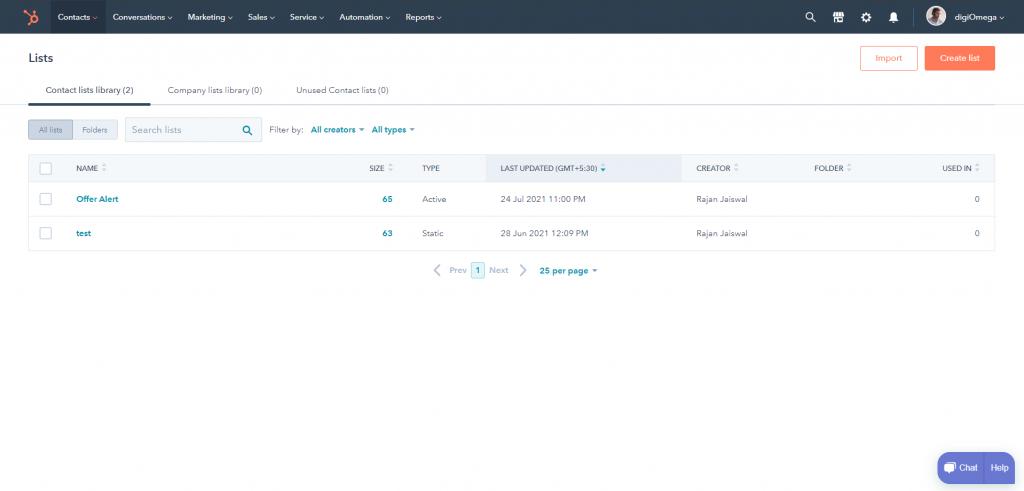 Step 2: Go to Messaging cloud Web App https://app.crm-messaging.cloud and navigate to Bulk SMS module.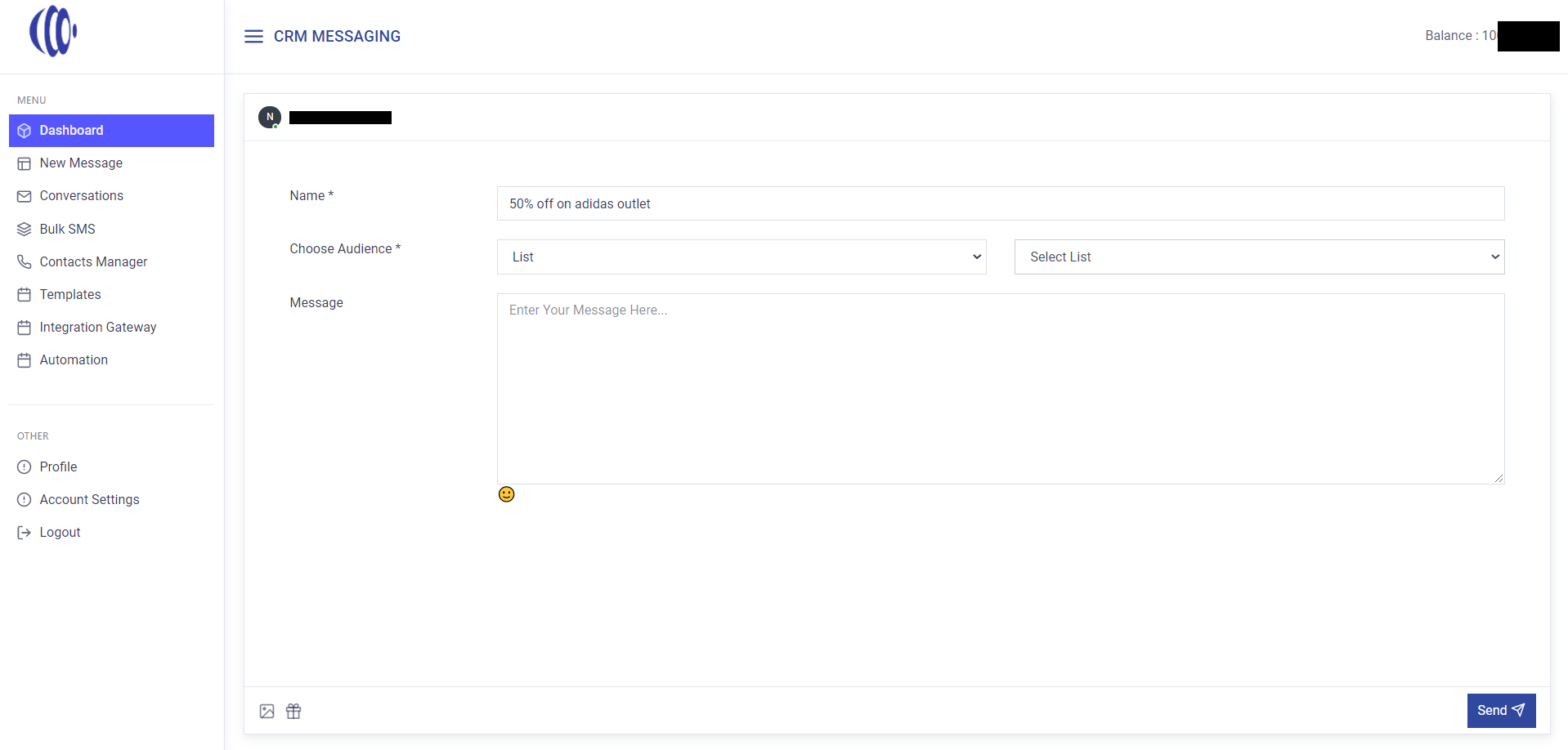 Step 3: Give your campaign a name and then choose audience from "List" and then select respective list from dropdown. If you do not see your list name in dropdown, navigate to integration gateway and refetch lists. Compose your message and schedule/send campaign
Send Automated SMS 
Using workflows, you can send automated SMS in your drips, notifications, and alerts use cases using workflow Messaging Cloud actions.
Step 1:Go to workflows, and define your enrolment trigger criteria and choose action "Send SMS via Messaging Cloud" to triggers SMS.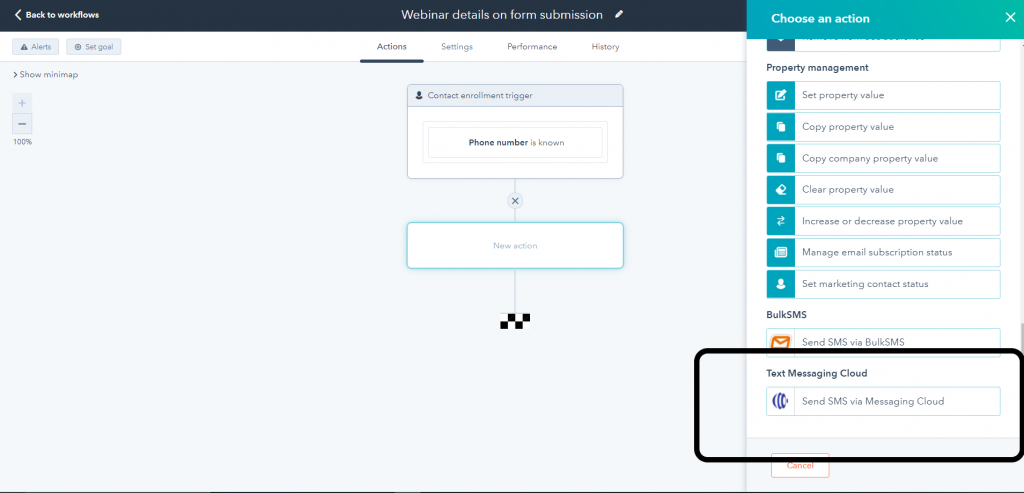 Step 2: Review workflow and run it, it will automatically send SMS for contacts enrolled in the workflow. 
Act on incoming SMS text
Messaging cloud has SMS triggers that can be used to trigger action in the workflow. For eg., you can collect OPT-ins if your participants reply "YES" keyword, then simply add all those contacts to a list.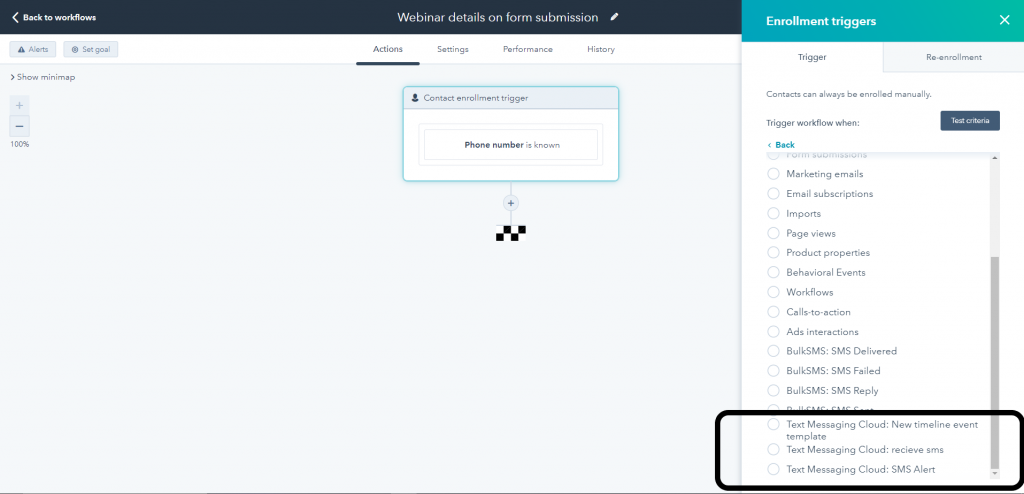 Activity History
Get all incoming and outgoing activities logged on contact record to get quick view on contact interaction with other activities in one timeline view.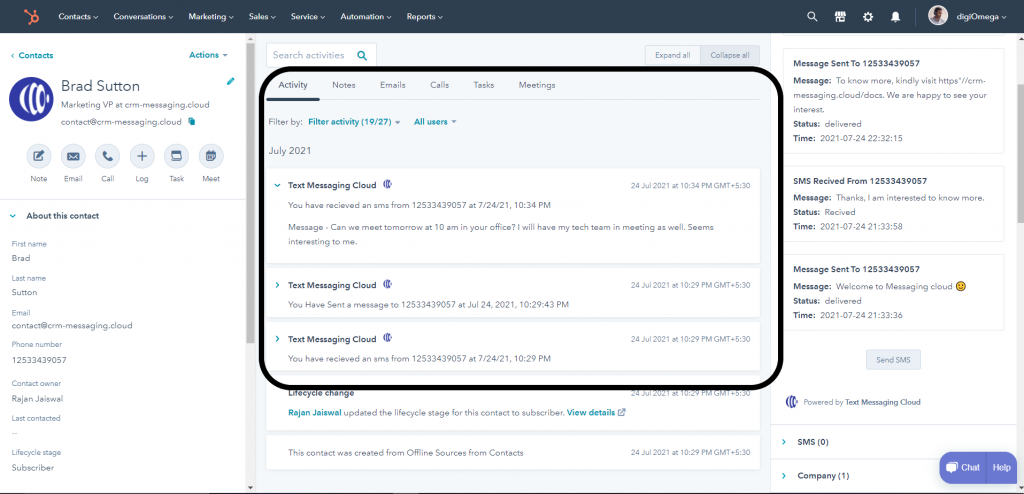 If you face any difficulty in either setting up or using this extension, please drop an email to

[email protected]

or call +1 (302) 486-0000
Want to see it in action?
No credit cards for trial | No contracts | Pay on the Go | Cancel Anytime 
© 2021 CRM Messaging • All rights reserved • Love from India